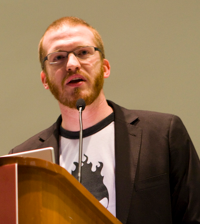 James is a long time leader in Open Source Software and a dedicated steward of Open Standards. Most recently, he was the Senior Services Architect at StatusNet where he was one of the principle designers of the OStatus protocol for open federated social networking.
Since 2003, he has been a core contributor to the Drupal Project. Within the Drupal community, he has contributed countless lines of code to several of the most popular components. Additionally, he was a founding General Assembly member of the Drupal Association.
In 2004, he co-founded Bryght, the first company to offer hosting and professional services exclusively for Drupal. James went on to serve as the Director of Education for Lullabot the foremost consulting and training company for Drupal. In this role, he trained thousands of new Drupal developers and users through public workshops, online workshops, on-site training, books and DVDs.
Outside of Drupal, James maintains a deep interest in the OpenID, Open Web and Jabber/ XMPP communities and frequently presents at conferences and events as an evangelist for these technologies. He is also a founding member of the Open Web Foundation.